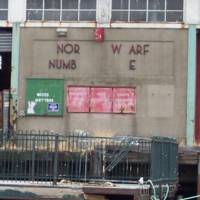 A sign on the docks on the Yarra. December 2002.
It's time for a new picture. This picture was taken last December on the infamous Williamstown Ferry trip.
Classes start next week, and I'm looking forward to them, even though preparation has been a bit tight. I am especially interested to see how my fourth year honours class enjoy what I have in store for them. Hopefully by the time I am done, the students will know a whole lot more, and I will have written the literature review for my next book.
---
← Spots
|
News Archive
|
"Tantrum" →